Basil oregano bread
Some of the most simple Instant Pot bread recipes (like this pizza-inspired one) involve just the right amount of flavorful herbs.
Monkey bread
if you haven't tried making monkey-bread before this is the best, super simple way to start.
Chocolate-chip pumpkin bread
You might be thinking this is a fall recipe, but it's so good, you'll want to make it all year round.
Parmesan & garlic bread
Pasta night will never be the same again and by that I mean – you will forget to make any pasta and just eat this garlic bread instead!
Banana bread
Here is your classic recipe in Instant Pot form. It might not be as 'fancy' as some variations, but sometimes you shouldn't mess with a classic.
French toast
Kind of like a make-ahead breakfast casserole, except you can make it now and eat it right away. We're saving this one for either Christmas orThanksgiving morning.
French bread
We wanted to put a straight-forward, no nonsense, and basic (but no less perfect) French bread in this round-up, so here it is.
Hawaiian rolls
These soft and buttery Hawaiian rolls are perfect for sliders.
Cheddar parmesan bread
Because one type of cheese isn't just enough cheese, try this warm and melty bread on a cold day.
Forget hours of mixing and kneading, water baths (and prayers) while your bread does exactly what it wants in the oven.
This list proves just how easy (and quick), it is to make fresh, delicious bread at home with consistent results using an Instant Pot.
Now, if you're looking to get in on the instant Pot life, and don't yet own one:
This is the model we have and recommend
Amazon always seems to have the best pricing year-round, plus you can get it delivered straight to your door.
You'll also need some accessories, this very affordable set is a great start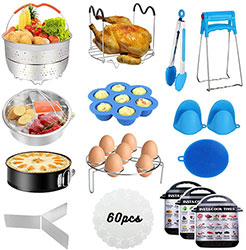 Accessories for Instant Pot, 76 PCS Accessories
Want to shop all our cooking picks in one place? Check out our

dedicated shopping page

, full of all our best finds from the interwebs!
Fall is when we go bread-making crazy! If you are looking for more recipe ideas on and around turkey day, then you'll want to head over to our list of Thanksgiving desserts with chocolate – it's full of beautiful cocoa-laden desserts for just a 'Lil break from the pumpkin.
If make ahead meals are more your jam then we've got a list of make-ahead Thanksgiving appetizers that you'll absolutely want to look over.
Plus we're giving a good dose of fall decorating advice in the form of color schemes for decorating, centerpieces, Thanksgiving table settings, and DIY fall wreaths. There's everything to fuel your inner creative!
Have your own take on Instant Pot bread? Please let us know in the comments! We'd love to feature your recipe 🙂
Edit + Nest is a participant in the Amazon Services LLC Associates Program, an affiliate advertising program designed to provide a means for sites to earn advertising fees by advertising and linking to Amazon.com. Click here to view our Privacy Policy.