Kahlua cocktails, with their combination of rum and smooth coffee – make the perfect drink (or dessert) for almost any occasion.
We are sharing some of our absolute favorite recipes (and a few more we just can't wait to try)
You'll know from our lists of Halloween, Thanksgiving, and Christmas cocktail recipes that we are big fans of any fun and interesting drink (especially around the holidays).
The best part about the following cocktails though is that they really are perfect – all year round!
Before we get started:
You will need a basic cocktail mixing set – if you don't have one already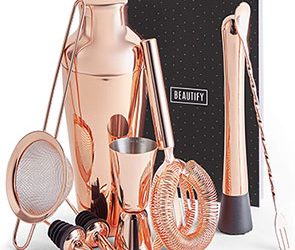 Rose Gold Cocktail Set
We can't get enough of this sophisticated cocktail set
Kahlua Cocktails
Toasted almond drink
If you are looking for a dessert cocktail that is packed with flavor, then look no further than this Toasted Almond Cocktail.
White leprachaun
Learn to make this classic whiskey and Kahlua cocktails
Gingerbread white russian
A simple homemade gingerbread syrup combined with classic Kahlua and vodka creates a new twist on a classic you won't want to miss!
kahlua chocolate martini
Why choose between dessert and an after-dinner drink when you can have both?
Mudslides two ways
Mudslide is a delicious dessert cocktail made with a combination of Bailey's Irish Cream, Kahlua, and vodka.
Kahlúa Pumpkin Scotchie
Pumpkin and butterscotch join forces to create one killer drink.
Mason jar chocolate milk & kahlua cocktail
The perfect after dinner drink for adults!
Kahlua mocha milkshakes
These kahlua mocha milkshakes are loaded with coffee, ice cream, and kahlua for an INCREDIBLE boozy milkshake!
Eggnog white russian
his smooth and creamy eggnog white russian cocktail is a festive and fun twist on the classic.
Kahlua espresso martini
he sophisticated yet approachable coffee cocktail that will keep the holiday festivities going.

Go to page: