Are you struggling and need to know how to beat the winter blues?
Finding reasons not to feel like your best self in the middle of winter is easy, even if you're normally an upbeat person. The holidays seem like a far off memory, it's cold outside, you're most likely broke or on an economy drive, and are trying to avoid getting a cold or flu bug.

Your new years' resolutions are floundering, and although everyone else is in the same boat, it still feels like you're wading through waist-deep mud just to get through each day.
But don't lose hope, nothing lasts forever, including winter.
Keep yourself going over the coldest months by learning how to beat the winter blues and keep them at arm's every year.
RELATED: 11 Nail Care Routine Tips to Help Your Hands Survive Winter
We talk about this product on the next page, but it's so good, I didn't want anyone to miss checking it out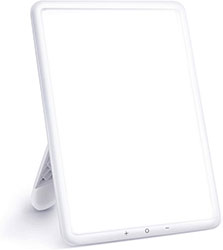 Light Therapy Lamp, Ultra-Thin UV-Free
Sit in front of this lamp for 30 minutes a day to combat seasonal affective symptoms in the winter months. This lamp has a premium look and feel, a handy travel pouch, and AMAZING reviews!
Want to shop all our Beauty & Style picks in one place? Check out our

dedicated shopping page

, full of all our best finds from the interwebs!
Lower your expectations
The secret to enjoying most things in life is not to have super-high expectations of them. With that in mind, don't beat yourself up for feeling crappy, or feel like you have to pretend to be on top of the world. Appreciating the little things and getting through a day at a time is totally ok for now.
Take care of your diet and eat for health
Eating a varied diet that gives you plenty of nutrients will help keep your mood balanced. Avoid starvation diets and bingeing junk food. A Mediterranean diet is known to be full of mood-supporting foods, like nuts, whole grains, and oily fish. Plus remember to stay hydrated for a natural energy boost.
Practice self-care
Take advantage of spending more time at home during the winter by starting a soothing self-care routine full of things you love. It can be beauty treatments, a bath with scented candles, or just taking some time for yourself with a good book. If you're into pampering, a DIY spa day makes a relaxing treat.

RELATED: DIY Spa Day Ultimate Guide: Everything You Need to Know

Let go of perfectionism
Being harsh and overcritical on yourself is a recipe for feeling down any time of the year, not just winter. Make your aim, 'good enough', and take things easy with personal projects until you're feeling better.
Make some plans
A positive way to remind yourself that winter will soon be over is to plan something fun for the future, like a getaway trip or just a simple a get together with old friends. Start planning early and make this part of your roadmap for how to beat the winter blues every year.
Keep active
Although we'll find any excuse to avoid it, the endorphins from exercise provide a natural mood boost as well as making you feel more energetic afterward. If you can't muster the energy for a workout, try to just get out for a brisk walk around your neighborhood on a regular basis.
Want to shop all our Health picks in one place? Check out our dedicated shopping page, full of all our best finds from the interwebs!
Go to page: