The holiday season is here and you need to make hot chocolate for a crowd of guests or family.
To add a little holiday magic, (and make it less work for you), why not create your own hot chocolate bar or drink station?
What is a hot chocolate bar?
A DIY hot chocolate bar not only makes for a fun seasonal feature, but it also lets your guests have a blast making their own delicious and decadent drinks.
Simply put, you set up a decorated table with all of the supplies for hot chocolate and let people make the drinks they want.
Don't worry, we'll go through it all, plus we've got a super cute and totally free label and sign kit for you!
Why is a homemade bar the best way to serve hot chocolate to a crowd?
A hot chocolate bar isn't just a cute focal point, it takes a lot of work and stresses out of hosting.
It means you need to focus on only one thing; keeping the base hot chocolate drink topped up.
There are so many different ideas to try and you can make your hot chocolate bar as simple or as elaborate as you like.
This post will guide you through all the essential elements you'll need to make hot chocolate for a crowd, and turn it into a cool and unique experience.
Some links in this post may be affiliate links. We may get paid if you buy something or take an action after clicking one of these.
Hot chocolate accessories we love
Want to shop all our Christmas picks in one place? Check out our dedicated shopping page, full of all our best finds from the interwebs!
Let's look at the vital ingredients to make a killer hot chocolate bar that you'll want to bring out for every event!
The best location for your hot chocolate bar
There are probably multiple locations where you could put your hot chocolate bar, but the best one will depend on the type of event you're hosting.
It could be a welcoming refreshment area in your hallway, to greet guests as soon as they arrive.
Place it in your main living room for hot chocolate on tap whilst watching movies.
It will make more sense for you to place it in your kitchen if you're worried about spills as any mess can easily be cleared up.
Be sure to have plenty of space around the table you plan to use, and avoid main walkways where it could get knocked over, or where it doesn't make sense for people to gather.
You can even place a hot chocolate bar outside like a lemonade stand.
Once you've found your perfect spot, it's time to gather your supplies and set up your bar.
Supplies, recipes and equipment for your DIY hot chocolate bar
HOT CHOCOLATE RECIPES
Probably the most important question for you to answer, is how are you going to make your hot chocolate?
You might think that hot chocolate is just hot chocolate, but not so.
A hot chocolate bar with just the BEST rich hot chocolate ever will become legendary in your neighborhood and will be talked about for months.
A hot chocolate bar featuring just mediocre, watery and thin hot chocolate? – That's just sad!- Don't be that person.
Our favorite hot chocolate recipe book
When it comes to hot chocolate recipes that we recommend, we have a few suggestions.
Slow cooker vs. traditional pan hot chocolate:
We recommend making a crockpot hot chocolate as it's easy to throw everything in and keep warm, and then ladle out when you're ready.
You also don't have to worry about burning the milk, eeek!
We love this recipe from one of our favorite food blogs, Sally's Baking Addiction.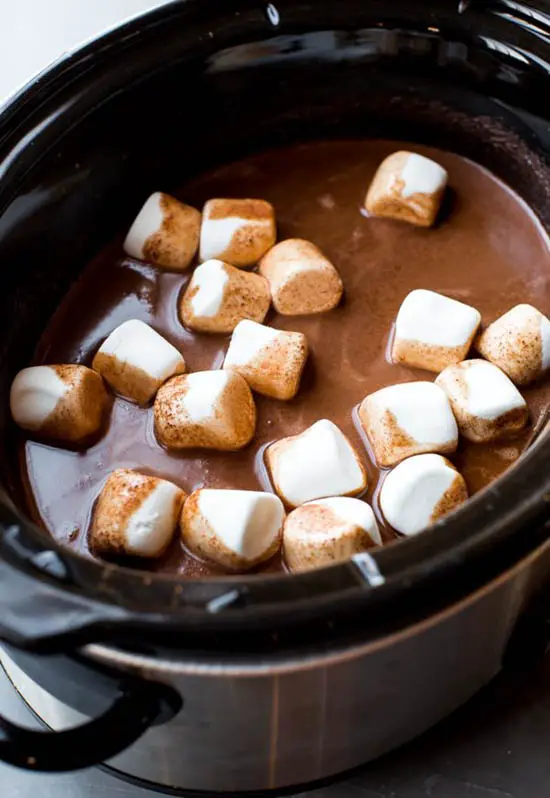 Alternatively, if you think you'll find the slow cooker recipe too rich, or want to use a powdered hot cocoa mix instead, then we rate this recipe from Pen + Paper Flowers.
It's a rich powder that you can make in a food processor and store for up to 3 months. When you want to prepare it, you simple whisk it into hot milk.
Small jars of this powder would also make lovely take-home favors if you're having a get-together with friends.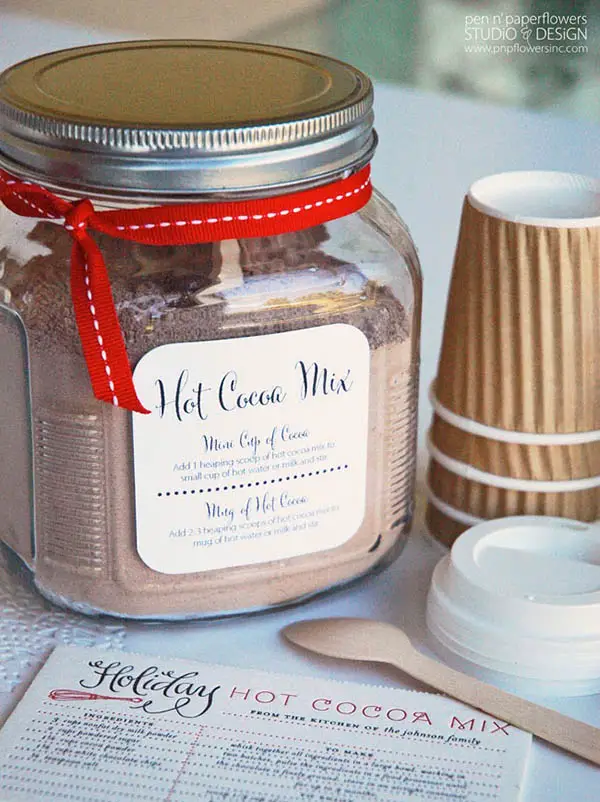 HOT CHOCOLATE SPOONS
A third option is to provide convenient hot chocolate spoons to your guests. If you haven't tried one of these before, you're in for a treat.
They're the ultimate in mess-free convenience as you simply put them out with your hot chocolate station for guests to stir into their drinks.
You can even add candy toppings and flavorings directly to the spoon. All that's left for you to do is to put out a container of hot milk that you keep topping up.
You can buy hot chocolate spoons, but for a homemade version, these ones from Domestically Blissful look heaven-sent. Click here to get the recipe.
Chocolate spoons also make sweet favors if you're hosting a party. You can wrap them in cellophane and tie with a pretty ribbon to take home.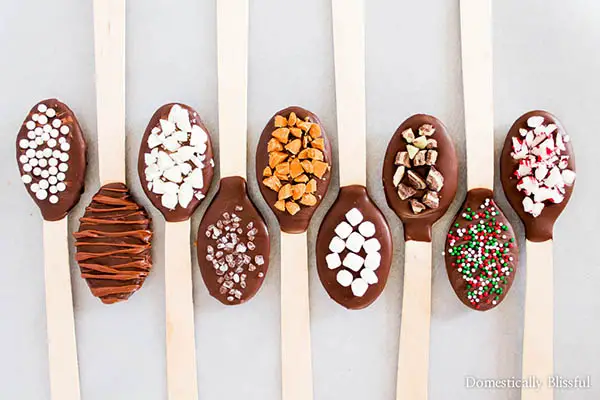 Our must-haves for homemade hot chocolate spoons
CUPS AND MUGS
Drinking from a themed mug makes hot chocolate taste better – that's a fact!
If your hot chocolate bar is for a family gathering, you could buy some personalized mugs for everyone to keep as a party favor after. These ones were a brilliant price on Amazon and can be delivered straight to your home.
We also like this mug, (see pic below) which can be decorated with your own design as a fun activity for guests.
Alternatively, you could buy a set of themed mugs like these ones.
If you're making hot chocolate for a big crowd, or for an outdoor event, you'll want to use insulated disposable cups like these.
Our picks for hot chocolate mugs
DECORATIONS AND SIGNS
There are lots of pretty printables online for making matching signage and labels for your hot chocolate bar. We also love this premade kit of signs and labels from Amazon.
If you want to buy a sign from a designer or get something personalized, then be sure to check out Etsy for lots of unique inspiration.
You can print signs and labels yourself at home, but the best results will come from getting them done at an office supply store.
Speaking of which, we have a super cute chalkboard label and sign kit for you to download totally free.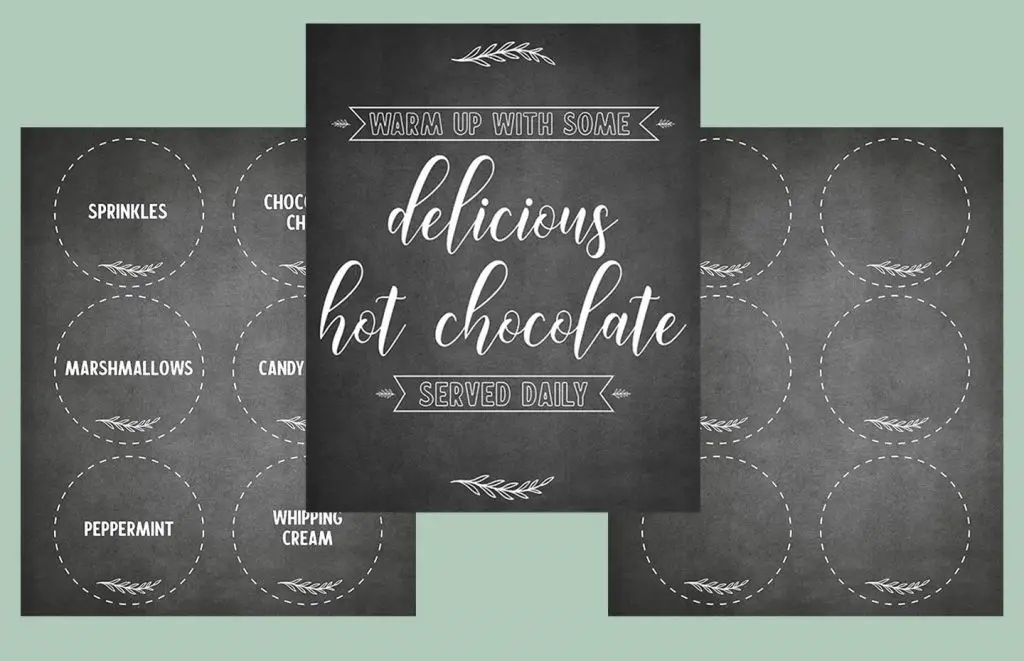 There are three documents in the kit, a vintage-style welcome sign, a sheet of pre-filled tags for toppings, then a sheet of blank tags for you to label up anything else you want. They're all 8×10 so you can get them printed easily.
Just fill in the form below and you'll get a download link for all three straight to your inbox!
We also love these pre-made signs and labels from Amazon
TOPPINGS AND ADD-INS
Now, we get to the good stuff!
Everyone will have their favorite, but don't be afraid to unleash your inner Willy Wonka to find amazing toppings and mix-ins.
Display your toppings in Mason jars or other pretty, transparent containers. Ideally, get containers that already come with scoops.
If your hot drink station will be out for more than a few hours, you'll also want to make sure that the containers have airtight lids to keep ingredients as fresh as possible.
Otherwise, you can just use normal or disposable spoons for your guests to serve themselves with toppings, and to mix the drinks.
If you're low on space, use a Lazy Susan to make a turntable of revolving toppings.
Organizing your toppings
Your toppings can be whatever you like; the sky's the limit, but as a guide use any of the following:
| | |
| --- | --- |
| Whoppers | Fine cocoa powder or chocolate sprinkles |
| Marshmallows | Chocolate chips |
| Kosher or Sea salt | Whipped cream |
| White chocolate chips | Candy canes |
| Cinnamon | Lindt truffles (or other 'melty' candies) |
| Toffee pieces | Baileys or Amaretto |
| Chopped chili | Flavored coffee syrups like hazelnut, caramel or cherry |
| Dark chocolate syrup | Cookies for dipping |
| Crushed peppermints | Caramel sauce |
Some of our favorite accessories for topping your hot chocolate
HOT CHOCOLATE WARMER
We've seen inspiration for tasty hot chocolate recipes and now, let's look at how to keep your hot chocolate warm once it's out.
You'll likely want to make your batch of hot chocolate before your guests arrive and then top it up as you need to.
A crockpot is ideal for this as, depending on your recipe, you can slow cook the hot chocolate overnight and wake up with it ready to go.
Just place the crockpot on your hot chocolate station with a ladle so that your guests can help themselves or you can serve it to them.
You can keep the hot chocolate continuously warm using the crockpot's low heat setting, stirring from time to time, and topping up as needed.
A different option is to fill an insulated drink urn with hot milk and keep some cocoa powder out on your hot drinks station so guests can help themselves. This is a slightly messier option than providing the hot chocolate pre-made, however.
Another way is to make the hot chocolate in any large cooking pan and decant it into a hot drinks urn or dispenser.
You could also leave the pot of cooked hot chocolate on a hot plate or warming tray, with a ladle if you don't have a crockpot. This option might get hot, so you'll want to keep an eye on it and watch for accidents.
Our favorite products for keeping hot chocolate warm for a crowd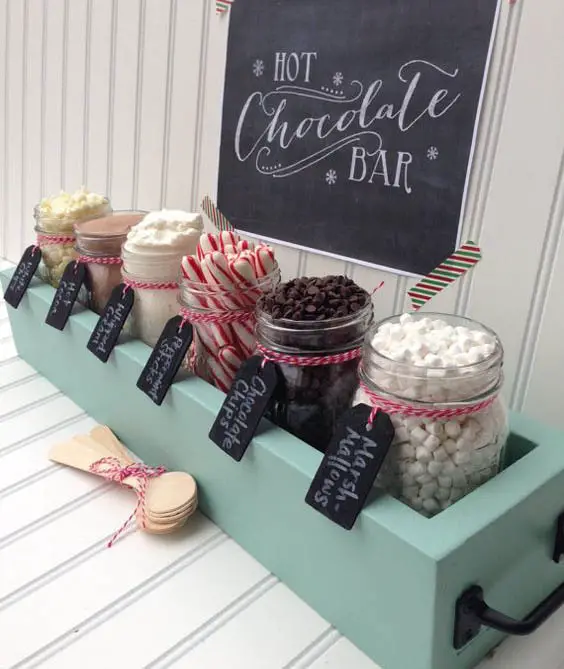 Get this look
Once you have your signs and supplies set up, you won't need a lot of extra decoration on the table itself.
You may also want to put out some non-chocolate hot drinks like a pot of coffee or flavored teas.
Once your set up is complete, although you may need to refill some of the ingredients, it's easy and self-sufficient for guests to help themselves to what they want – which makes this idea such a hit with busy hosts!
Want to shop all our Christmas picks in one place? Check out our dedicated shopping page, full of all our best finds from the interwebs!
Did this post inspire you to build your own heavenly hot chocolate bar? Let us know in the comments!
Do you want to grab a FREE printable sign and labels kit for your hot chocolate bar? Sign up below to get in on this!
Edit + Nest is a participant in the Amazon Services LLC Associates Program, an affiliate advertising program designed to provide a means for sites to earn advertising fees by advertising and linking to Amazon.com. Click here to view our Privacy Policy.
Did you enjoy this post? If so, don't forget to share it on Pinterest!