The Corpse Bride
Have you ever noticed how many Tim Burton films feature unrequited love? The king of melancholic Halloween-themed movies returns to his stop-motion animation roots with this sweet and unusual kind-of love story that revolves around dumping someone. Anyone who has ever struggled to let someone down gently will appreciate this one!

Ghostbusters
Who Ya' Gonna Call? Everything to do with 80s nostalgia is huge right now. So don a pair of Janine's oversized glasses and toast some Stay Puft marshmallows whilst you enjoy the ghostly antics of Venkman and the gang.

Twilight
If you like to mix your Halloween with a good dose of teen angst, then you must be a Twilight fan! Long pauses and staring into the distance aside, this atmospheric love story between an alienated teen and her vampire crush is now a Halloween staple.

Practical Magic
Featuring plenty of New England-in-the-Fall gorgeousness, love spells, and 90s witches, this romantic fantasy about two sisters will give you all the warm and fuzzy, pumpkin-spice feels.

The Nightmare Before Christmas
Although some might argue this is more of a Christmas movie, we can never resist an excuse to watch Jack Skellington! Now the ever-present Halloween poster boy, this story of the Pumpkin King and his ghoulish underworld's misguided attempts to 'take Christmas' will have you singing Danny Elfman's original songs for days afterward.

Casper
If Tim Burton is the king of Halloween then Christina Ricci must surely be the Queen. Her performance, along with Bill Pullman, carries a haunted house tale that's definitely living comfortably on the mild side. Aside from the cheesy moments – of which there are many – the dance scene alone is enough to make this worth watching.

Edward Scissorhands
It just takes the line: "Sometimes you can still catch me dancing in it", for us to well up! Gentle orphan Edward – who just happens to have blades for hands – is adopted by a local family, however, the misunderstood outsider struggles to walk a delicate line between acceptance and fear. Arguably, gothic god Tim Burton's best-ever movie, full of classic lines and with lessons that are more relevant today than ever: you will need to have your tissues ready for this one.
A number of these movies can be watched now for free via this link to an Amazon Video free month trial
RELATED: 16 Cool Halloween Makeup Tutorials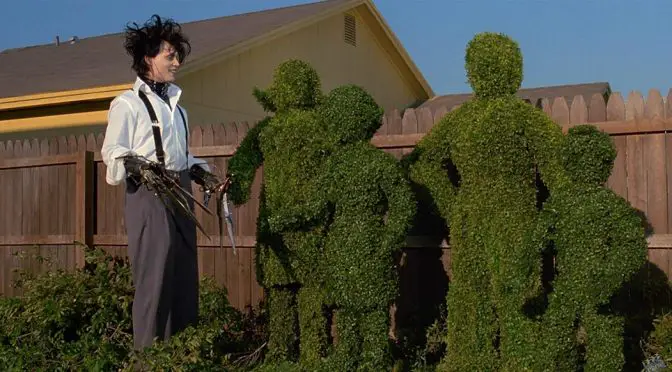 Which are your favorite Halloween-themed movies? Let us know in the comments!
Did you enjoy this post? If so, don't forget to share it on social media!
Edit + Nest is a participant in the Amazon Services LLC Associates Program, an affiliate advertising program designed to provide a means for sites to earn advertising fees by advertising and linking to Amazon.com. Click here to view our Privacy Policy.