There's nothing like curling up with a few romantic holiday movies for some seasonal downtime on a cold day.
Now, confession time: this post could be called, 10 romantic holiday movies that are not Love Actually or The Holiday after the two movies you won't see on this list.
They're super-popular films, and you'll find them on nearly every other holiday movie countdown on the internet. But, variety is the spice of life, and in this post, we set out to find the best romantic Christmas stories that sometimes get left behind in their wake.
A number of these movies can be watched now for free via this link to an Amazon Video free month trial
So, without further ado, here's our list of the (other) best love-filled holiday movies, guaranteed to warm up even the coldest of hearts!
Make some holiday popcorn with these accessories – you'll be glad you did
Want to shop all our cooking picks in one place? Check out our

dedicated shopping page

, full of all our best finds from the interwebs!
Some links in this post may be affiliate links. We may get paid if you buy something or take an action after clicking one of these.
Serendipity
Is there any setting more captivating than New York City at Christmas-time? If you like fated romances then you'll love this story about a couple who decide to leave their future up to chance. This sweet movie is as festive as a mug of hot chocolate on a winter's day. It's a must for anyone who believes that everything happens for a reason.

Stream it, rent it or buy it on Amazon here

An Affair to Remember
What marks out the classic romance movies of the past, is that you genuinely fear that the couple just won't get it together. Somehow, today's movies never quite pull it off in the same way as the oldies do and this flick is a perfect example. We watch this classy 1950s tearjerker every year without fail, and somehow it gets better every time.

Stream it, rent it or buy it on Amazon here

While You Were Sleeping
What do you do when you save the life of your amnesia-stricken, badly-injured, secret crush? – Pretend that you're his fiancee, of course! – Sandra Bullock, in a full-on holiday charm offensive, makes her shy loner character believable, and not a bunny boiling psychopath. This is an endearing '90s rom-com about mistaken identity that you won't want to miss.

Stream it, rent it or buy it on Amazon here

The Shop Around the Corner
If you've seen Tom Hanks and Meg Ryan in You've Got Mail, then this movie (based on the Hungarian play,Parfumerie), will give you some serious deja-vu! In our opinion, however, this one's way better. King of Christmas, Jimmy Stewart stars in a cute love story set between bickering workers in a Budapest department store.

Stream it, rent it or buy it on Amazon here

Bridget Jones' Diary
Unlucky-in-love Bridget Jones never seems to know what's good for her until it's too late – we can totally relate! This is the perfect flick to watch on a girls gift-wrapping night. London has never looked more picturesque and romantic than in this movie version of the famous chick-lit novel.

Stream it, rent it or buy it on Amazon here

The Apartment
If you like your holiday romances on the unconventional side then The Apartment, is definitely for you. Taking in suicide attempts and extra-marital affairs – it's hard to believe that this film was marketed as a comedy – so far, so un-Christmas!

Sparky chemistry between the leads, Jack Lemmon and Shirley MacLaine, and a satirical look at the world of big business and social climbing, mean plenty of entertaining moments, however.

Stream it, rent it or buy it on Amazon here
If you prefer to make your popcorn in a microwave, this product works great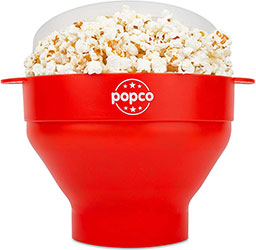 The Original Popco Silicone Microwave Popcorn Popper
Go to page: