Exercising and being active has so many benefits for your health. Positive changes you'll see include reducing stress and increasing energy, not to mention helping to achieve a longer life expectancy.
Despite these amazing benefits, however, finding the time to exercise and the motivation to stick with it is hard. Trying something new can be daunting, especially if it's been a long time since you set foot in a gym.
Give yourself the best chance of sticking with it for the long haul by aiming for consistency with a workout style that suits you – and always consult your doctor before starting any new exercise routine.
RELATED: How to Get an At Home Gym on a Tiny Budget
Sometimes it pays to start slow
What exercise do you do right now? If none then it might pay to start slower. Be realistic and don't try to overdo it all at once. If you've done any exercise or sports that you've enjoyed in the past, then it definitely helps to start there.
Look at your goals and your personality
If you want to achieve strength, flexibility, or fat loss, then it makes sense to pick a form of exercise that works on those goals but don't ignore the impact of personality: If you're a social butterfly, then choose group classes as you won't last long lifting weights on your own.
Work with your routine, not against it
Where do you want to work out, at home or in a gym? – Look at your daily routine and commitments as whatever you choose has to work around that for it to be sustainable. It's better to choose something that can slot into your life relatively easily, so think twice before signing up for that 5 am boot camp if you love your lie-ins.

You'll find waking up to this super cute alarm clock a lot easier than your dreaded phone alarm…




Pastel Alarm Clock


RELATED: 16 Pain Free Tips That Will Help You Get Up Earlier
If you have always wanted to try out a fitness tracker but were put off by the high cost, this budget Fitbit alternative does everything you could need – and more!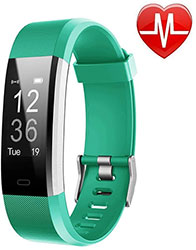 Fitness Tracker with Heart Rate Monitor
Want to shop all our Health picks in one place? Check out our

dedicated shopping page

, full of all our best finds from the interwebs!
Go to page: