If you love crafting your own DIY treats then these Halloween hand pies will be right up your street.
When it comes to Halloween food ideas, there's never a shortage of candy, but it can be harder to find savory options.
So if you're looking for a recipe for Halloween dinner, then try these yummy Mummy sarcopha-pies with four different varieties – two sweet and two savory.
Some links in this post may be affiliate links. We may get paid if you buy something or take an action after clicking one of these.
They are quick and easy to make, thanks to ready-made pastry, plus they look cute too.
There's a crowd-pleasing pizza flavor where you can add whatever toppings you like, and a delicious caramelized onion, olive, and feta version too.
For the sweet options, there's a sugar-free banana, honey, and cinnamon, plus a caramel apple fall-flavored variety also.
The Halloween hand pies use the pastry topping as mummy bandages and they are easy to assemble – best of all, there's no need to get a perfectly neat finish with these pies.
Serve with a salad and your favorite Halloween-themed movie to finish.
RELATED: 27 of the Best Easy Kid-Friendly Halloween Treats
Clever cooking utensils I used for this recipe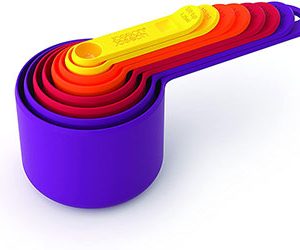 Joseph Joseph Nest Measuring Cups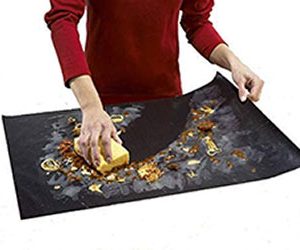 Non-Stick Oven Liner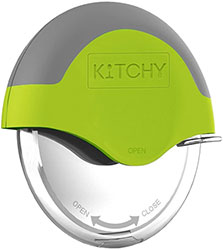 Traditional Pizza Wheel
Want to shop all our cooking picks in one place? Check out our dedicated shopping page, full of all our best finds from the interwebs!
Full recipes for these Halloween hand pies follow below, but here are our tips for making them.
With a sheet of ready-made pastry, cut it across the middle. My tip is to measure and mark the pastry first – and cut it with a pizza wheel, it's way easier than a knife. The top section will be the bottom of the pies where you place the filling and the bottom sections will be the bandages.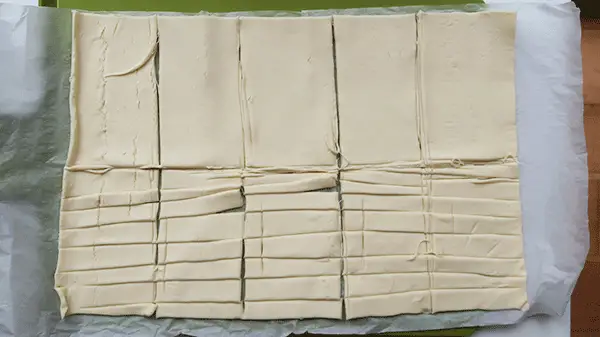 The beauty of this recipe is you can adapt it any way you want with different ingredients. If you want to add more filling to your hand pies, just get some extra pastry and make the bandages longer to cover the extra filling.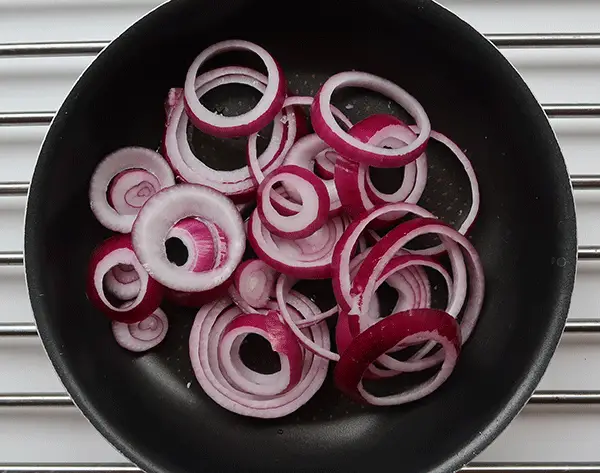 The olive, onion, and feta version starts with some yummy caramelized onion. Once you master these simple caramelized onions, you'll be making them all the time. We used red onion, but you can also use white onions.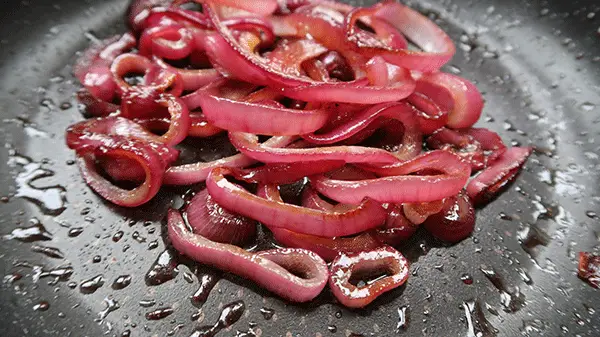 Once the onions are gently cooked over low heat the addition of brown sugar and balsamic vinegar will have them nicely caramelized in no time. Just make sure to keep stirring them so they don't stick and keep the heat low.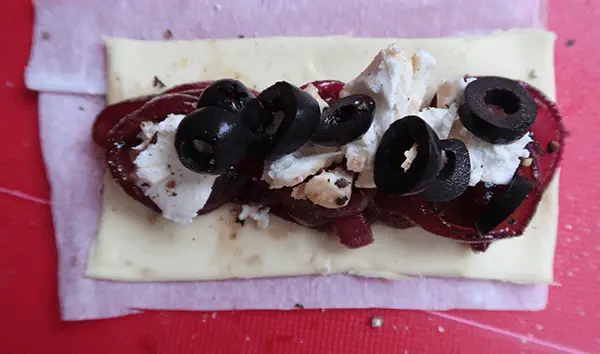 Once you pile up the toppings in the middle, you can stick the bandages over the top to make the mummy. Just leave space near the top to place two of the olive slices to become the Mummy's eyes. For the sweet versions, you can use candy eyes which you'll place after they're baked.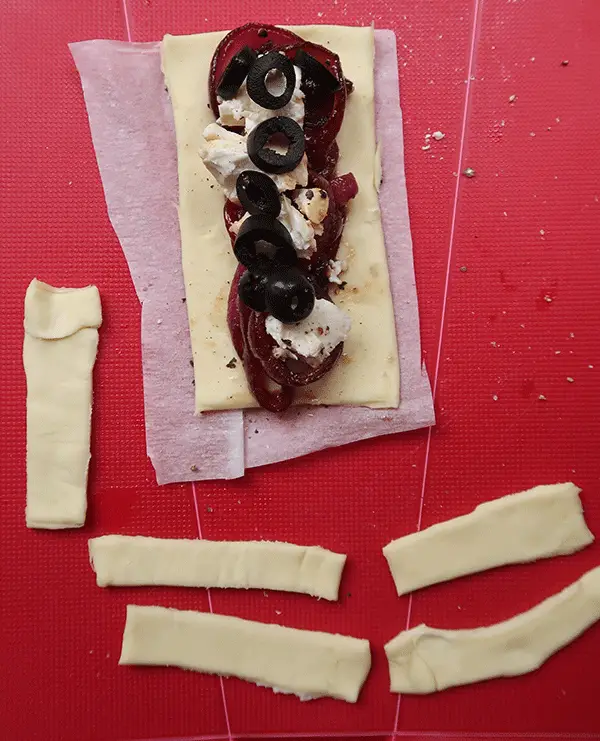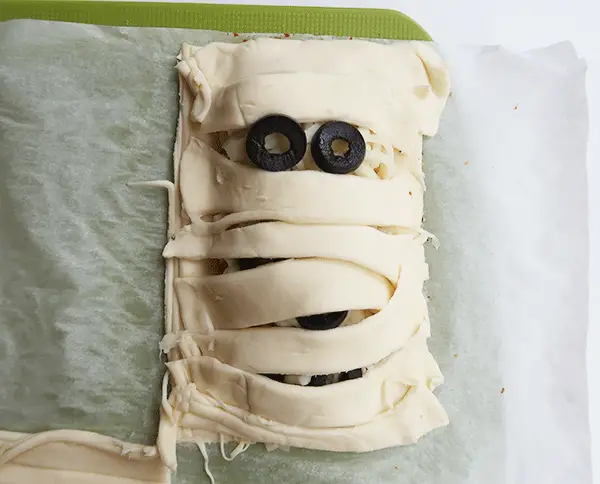 The great thing about these pies is that you don't need a neat finish to them. You can use a beaten egg to form a wash over the top if you want a golden finish, or if you are happy with them being paler, you don't need to do this step.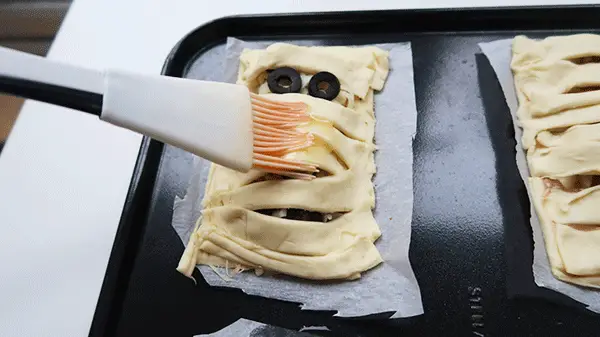 Place the pies on baking paper so they don't stick to the tin.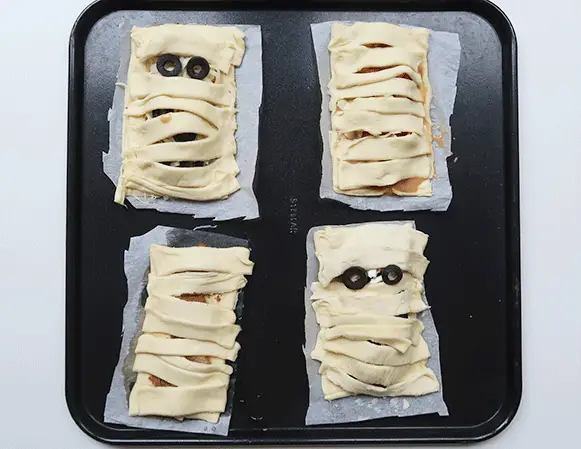 All these Halloween hand pies need is 15 mins in the oven so the pastry cooks.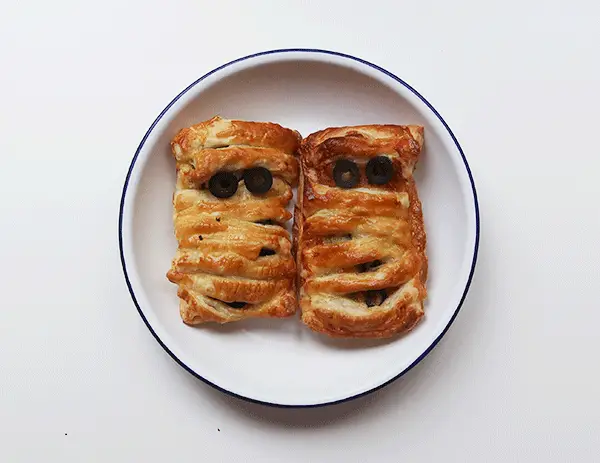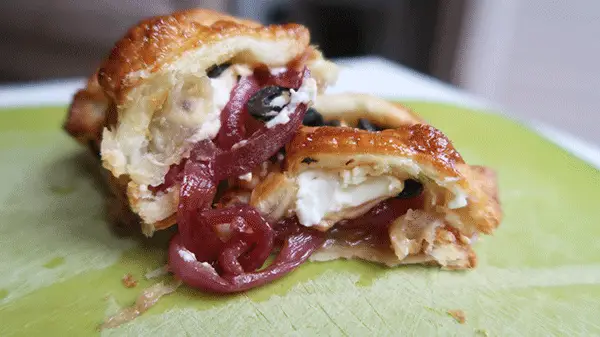 Caramelized Onion, Feta, and Olive Mummy Pies
Yummy savory Mummy puff pastry hand pies
1 sheet ready-made puff pastry
3 red onions
2 tbsp olive oil
1 packet feta cheese
10-15 black olives (sliced)
pinch sea salt
2 tbsp soft brown sugar
1-2 tbsp balsamic vinegar
First, make the caramelized onions. Heat the 2 tablespoons of olive oil in the pan on a low heat and slice the onions.
Add the sliced onions to the pan with a generous pinch of sea salt and cook on a very low heat for 15-20 mins until soft and starting to turn slightly golden. Keep stirring to ensure they don't overcook or stick to the pan.
Add the sugar and balsamic vinegar to the pan and stir to coat the onions evenly. Continue to cook on a low heat for a further 5-7 minutes until the sugar has dissolved, the vinegar has reduced and the onions are caramelized.
Roll out the pastry into a rectangle, cut in half across the middle widthways to make tops and bottoms for the pies. Then divide into 5 (or as many pieces as you want) lengthways. My pastry was 350mm wide, so I made 5 pies 70mm wide each.
Cut the bottom section of pastry into slices to form the Mummy bandages. Using a pizza cutter for this is easiest but you can just use a knife also.
Divide the toppings amongst the top sections of the pastry, starting with the caramelized onion, then the sliced olives and crumble over the feta. I used 10g feta, 25g red onion and 2 olives per pie. Be sure to leave space at the edges to stick the bandage sections of pastry down. Reserve two slices of olive for each pie to form the eyes.
Season with salt and pepper and then take the pastry bandages and place haphazardly at angles to create the bandage effect. Leave space between bandages near the top for the olive slice eyes and place them in the gap.
Brush each pie with beaten egg and bake for 15 mins at 390F/200C
I use the Ingenio pan set for all my cooking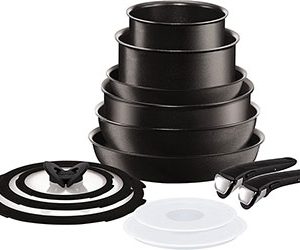 Ingenio 13 Piece Induction Pan Set
I have a small kitchen with limited storage space. This set allowed me to have every pot and pan I need, for the same cupboard space as a single pan.
Go to next recipe: