Monster eye ball Rice Krispie bites
Rice Krispie bites taste good on any occasion – #fact – dress yours up for Halloween with this recipe.
Halloween trifle
That's right, trifle isn't just for those other holidays. Make this recipe and it's sure to become an annual tradition.
Cute Frankenstein Rice Krispie treats
You don't need to be neat with the decoration of these treats, so they're a great choice for kids to get involved with.
Melting witch hot chocolate
We can't resist a good hot chocolate, and this one is going straight to the top of our bucket list.
Cockroach donuts
If giant cockroaches are the stuff of your nightmares, this isn't the recipe for you. This Halloween dessert might be a bit too real for some but it's scoring all the authenticity points!
Candy corn jello
If you have smaller kids who want to get in on the fun, these jello cups are an excellent choice. recipes like this.
Creepy mice cakes
Here's one uninvited guest you won't have to call the exterminator for.
Halloween cake
For a fun Halloween twist on a unicorn cake, look no further.
Pumpkin bundt cake
This pumpkin looks so good, don't be surprised if people have to check if it's real.
Blackout chocolate cupcakes
For a cupcake as dark as your soul, this is the recipe to try.
Werewolf kibble
Move over puppy chow, this Halloween, it's all about the werewolf kibble.
White chocolate candy corn cookies
This isn't just a recipe that looks good, if you want the perfect soft batch cookie this is the one to go for.
Pumpkin Rice Krispie treats
Kids will have a blast making these ultra-messy treats.
Candy corn marshmallow pops
These one-handed treats leave the other hand free to cast all kinds of spells.
Mini candy corn cheesecakes
These colorful cheesecakes will be the perfect finishing touch for your dessert table.
Halloween bubbling witch's cauldron brownies
Frosting-filled brownies? – Count us in!
Halloween witch cupcakes
Nevermind dessert, these candy-stuffed cupcakes are almost a meal in themselves!
Candy corn tuxedo cake
If you want to go all out, this colorful, candy corn tuxedo cake is sure to cause a stir.
center>
For your depart-ed guests these party favour bags work a treat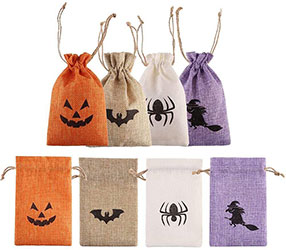 Halloween Party Favor Bags
These burlap treat bags make handing out candy ultra-convenient
Want to shop all our Halloween picks in one place? Check out our dedicated shopping page, full of all our best finds from the interwebs!
We hope you like these Halloween dessert ideas and that you found one to take to the grave with you.
Now if you enjoyed these desserts, we think you'll lose your mind over the Halloween breakfast ideas we found. They're simply the best way to set you up for a scream-filled day.
Are you decorating for Halloween too? If so, check out our favorite simple DIY Halloween decorations to set the scene for your recipes.
Don't forget to look the part either – we've got you covered there too with easy last-minute Halloween costumes. – Including outfit ideas for families, couples, and plenty of inspiration for guys too!
If you're throwing a party and need some drinks inspiration, or you're just in need of a good sundowner are all those creepy capers, check out our list of the best boozy Halloween drinks.
What's your favorite thing about Halloween? Let us know in the comments!
RELATED: 21 Halloween Drinks Recipes to Get the Party Started
Did you enjoy this post? If so, don't forget to share it on Pinterest! Speaking of which, don't forget to follow us here for more brilliant ideas.
Edit + Nest is a participant in the Amazon Services LLC Associates Program, an affiliate advertising program designed to provide a means for sites to earn advertising fees by advertising and linking to Amazon.com. Click here to view our Privacy Policy.