Celebrate the season of the witch with these howling Halloween dessert ideas.
If you're looking for something delectable and devilish to finish off Halloween in style, boy have you come to the right place.
There are sweet surprises and ghouls galore with these awesome Halloween dessert ideas.
We've got kid-friendly Halloween desserts, plus shockingly simple recipes, as well as more extravagant exhibits to delight your tastebuds.
So follow me down to the crypt as we look over the demonic desserts of your nightmares!
A lot of the recipes on this list can be made in advance, I found this for storing my treats!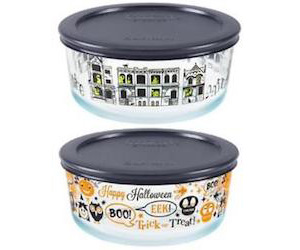 Pyrex Halloween Storage Set
The spookiest way to store leftovers or keep candy fresh
Halloween candy bark
This cute candy bark would make brilliant party favors or trick or treat candy.
Crazy candy corn marshmallow treats bars
If you want a kid-friendly Halloween dessert recipe, it doesn't get much easier than this no-bake recipe.
Peanut butter spider cookies
We're just nuts for these cute cookies!
Pumpkin bread truffles
For anyone making a Halloween dessert buffet, these bite-size pumpkin balls are well worth the effort. recipe for you!

Serve up your concoctions in these bewitching shirts




Want to shop all our Halloween picks in one place? Check out our dedicated shopping page, full of all our best finds from the interwebs!

Jack-o-lantern hand pies
Pumpkin spice lovers, and fans of easy recipes, will love these hand-pies that use ready-made pastry.
Mini Candy corn cheesecakes
Almost too good to eat, Halloween recipes don't come much cuter than this!.

If you're looking to 'whip' up an 'easier' Halloween dessert



Cheesecake stuffed Halloween cupcakes
Can't decide between cupcakes and cheesecake? This recipe with a pumpkin-flavored filling inside a chocolate cake has your back.

Giant edible eyeballs
You might give them a pass, but kids will go crazy for these coconut flavor edible eyeballs.
Spider web Halloween brownies
Using a boxed mix for these brownies will really speed up this recipe, so you can send more time perfecting your iced spider webs.
Graveyard pudding cookie cups
These pudding cups are a good choice if you don't want the temptation of a lot of leftovers as you can make only as many as you need. fall recipe is hard to beat – and it makes the most of readymade ingredients so it's super easy too..
Melted Jack-o-lantern brownies
Your guests will have a ball finding the monster surprise inside these cool brownies. – Spoiler alert – it's a marshmallow!
Jack Skellington cheesecakes
Creamy mini cheesecakes with an Oreo crust – what's not to love!

RELATED: 27 of the Best Easy Kid-Friendly Halloween Treats

Halloween Monster cookies
If you're looking for something with easier decoration, these monster cookies are hard to beat.
Halloween candy-filled "trick or treat" cake
For a real wow factor, this cake is one that will be talked about all year long – just don't blame us if you get talked into making it every year!
Graveyard Halloween brownies
For the worms and dirt look in a brownie, give this easy recipe a try..
Halloween ghost chocolate cake
Here's an appetizing apparition if ever we saw one! Once you get the hang of this cake-within-a-cake recipe, you can try it out for all sorts of holidays.
Hocus Pocus spell book brownie
Anyone who loves a good cozy Halloween movie will be spellbound by this treat!

Pumpkin juice anyone? Harry Potter fans in your household will love dispensing their favourite brew with this kit




Want to shop all our Halloween picks in one place? Check out our dedicated shopping page, full of all our best finds from the spooky interwebs!

Go to page: