Transport your desserts in style

Round Cake Carrier

Cakes will stay fresh and secure with this plastic carrier that features a top handle for easy transport

Cupcake carrier

Keep cupcakes and tray-bakes safe while you travel with this neat carrier

Foil Food Containers

Keep your food fresh and festive with these cute foil containers that are perfect to send leftovers home with your guests

Dark chocolate orange slice & bake cookies
These fragrant cookies are bringing all the holiday flavors.
Christmas pudding cheesecake
If you want to try something a bit different, try this spiced fruit cheesecake based on a classic English Christmas pudding.
Salted caramel puddings
The perfect make ahead recipes have ingredients that get stronger over time, like these ones.
Gingerbread cheesecake balls
Taking just 10 minutes to prep, these cheesecake balls are what to make when you don't feel like going to the trouble of making gingerbread.
Easy cheat's chocolate trifle
This make ahead trifle is bringing all the holiday sparkle with less of the effort.
Chocolate lasagna
What's better than a delicious chocolate dessert you can make ahead? – One that doesn't take up any oven space either of course!
Mini Christmas trifles
These mini trifles look great served in individual glasses – and they're ideal for anyone keeping an eye on their portion sizes too!
Chocolate pavlova with salted caramel sauce
A pavlova is one of the best recipes you can make if you want a prep ahead dessert that still looks mighty impressive!
Perfect no bake vanilla cheesecake
Trust me, a water bath for your cheesecake is the last thing you want to worry about around the busy holidays, so opt for this brilliant no-bake version. Serve with a topping of white chocolate and cranberries for a festive touch!
Irish cream panna cotta
Irish meets Italian for this dessert that's an ingenious mix of easy and fancy.
Gingerbread cookie bark
You'll wonder how you lived without this rich and crumbly cookie bark.
No bake Oreo truffles
No one will believe these yummy truffles are homemade, and with just three ingredients, this make-ahead recipe wins all round.
Homemade chocolate covered cherries
They might take a little time to make, but with chocolate and cherries being one of our all time favorite flavor combos (nevermind being perfect for the holidays), we're definitely making these!
German vanillekipferl
We're not even going to try to pronounce the name! Let's just call them German vanilla cookies and agree that they're amazing. 🙂
Hopefully, this post gave you lots of helpful ideas for easy Christmas desserts to make ahead.
If you're hungry for more, stop by our list of Christmas desserts that are worthy of the 'gram.
While you're at it, be sure to check out our list of make-ahead Christmas appetizers, to save you even more kitchen dramas.
If you've got a sweet tooth then we think you'll really enjoy our post on how to make hot chocolate for a crowd with lots of cool ideas and step-by-step instructions for how to make your own hot chocolate bar – including some FREE chalkboard printables!
What's your favorite dish to whip up over the holidays? Let us know in the comments we would love to feature your recipe!
For even more, here's my favorite make-ahead cookbook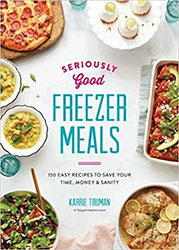 Seriously Good Freezer Meals Recipe Book
If you love make-ahead and freezer recipes then check out this cookbook, it's loaded with over 150 delicious creations!
Did you enjoy this post? If so, don't forget to share it on social media! You can follow Edit + Nest on Pinterest and see more great ideas by clicking here.
Edit + Nest is a participant in the Amazon Services LLC Associates Program, an affiliate advertising program designed to provide a means for sites to earn advertising fees by advertising and linking to Amazon.com. Click here to view our Privacy Policy.