Decor picks we love for Halloween

Trick or Treat 5ft Sign

Let trick or treaters know where to stop with this adorable wooden sign

Old Salem Inn Sign

Meet us at the Salem Inn for a pitcher of olde witches brew!

Pumpkin Patch Sign

We love this cute aluminium farmhouse sign

Ghost garland via Taryn Whiteaker
We're making this ghastly ghost garland for sure! You can buy string lights from so many places if you don't have them already and you can use old white pillow covers for the sheets!

Window silhouettes via DIY Network
All you need for these easy window silhouettes is some black cardstock and a printer, or simply trace and cut the shapes you want. If you wanna go all out, you can make some giant ones with the help of a print shop that can be reused every year.

Mason jar lanterns via Not So Idle Hands
These mason jar lanterns can be dotted all over the room and you can use any old jars you have laying around!

Trash bag spider webs via HGTV
These genius trash bag spiderwebs look cool and take minutes to make – a Halloween decorator's dream come true (or should that be nightmare?)

Dripping blood candles via She Knows
If you don't have a dropper for these classic dripping-blood candles, you can use red taper candles instead. Hold them over the white pillar candles and let the melting red wax drip down them for the same effect.

LED flameless candles, just made for Halloween

Red Flameless Candles

Create the perfect ambience to summon up long-departed spirits with these red LED candles, complete with remote control

Black Flameless Candles

Get the haunted house look with none of the waxy mess left behind

DIY ghost wreath via Spirals and Spatulas
Even though this project involves buying a grapevine wreath (if you don't already have one), the fact you can use it year after year makes it a good investment. The lil' white ghosts are super cute but you could also use bat shapes, a witch cut out, or even some Jack Skellington faces – whatever floats your boo-shaped boat!

Floating Halloween candles via Consumer Crafts
These Harry Potter Great Hall-themed floating candles are easier to make than they look! If you don't have LED tealights, you could use full length LED candles, however using the cardboard and tealight combo means you can choose the exact length you want for them and they are easier to hang.
If you wanna kick back after all your hard work, check out our list of boozy Halloween drinks. They're frightfully good.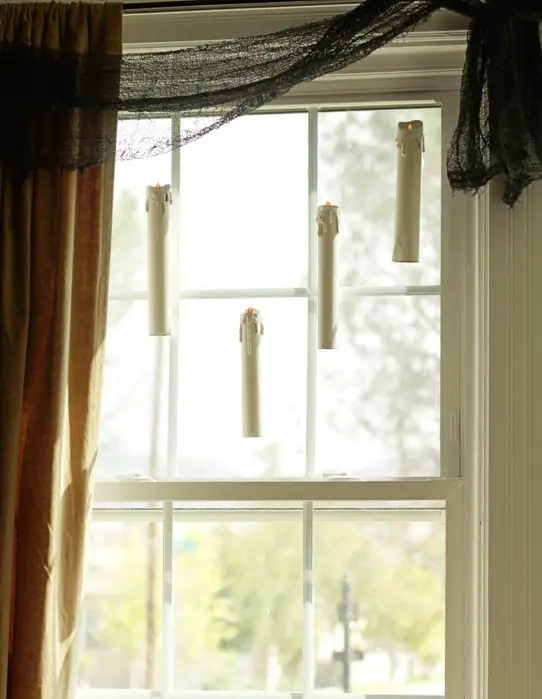 Which one of these devilish DIY Halloween decorations ideas will you be creepin' it real with come Halloween? Let us know in the comments!
RELATED: 31 No-Carve Pumpkin Decorating Ideas
Looking for something to serve candy in?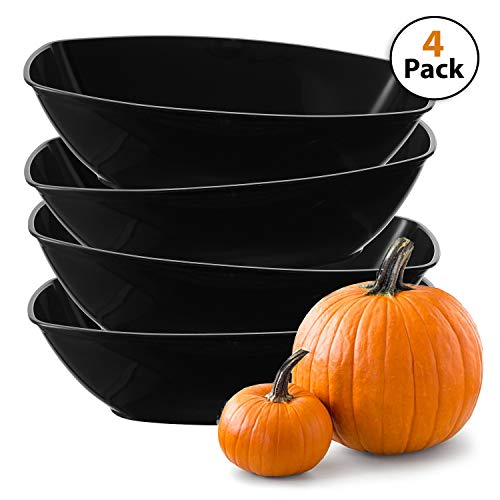 Black Serving Bowls
These bowls are just what you need for serving up a scary treat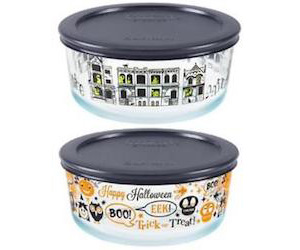 Pyrex Halloween Storage Set
The spookiest way to store leftovers or keep candy fresh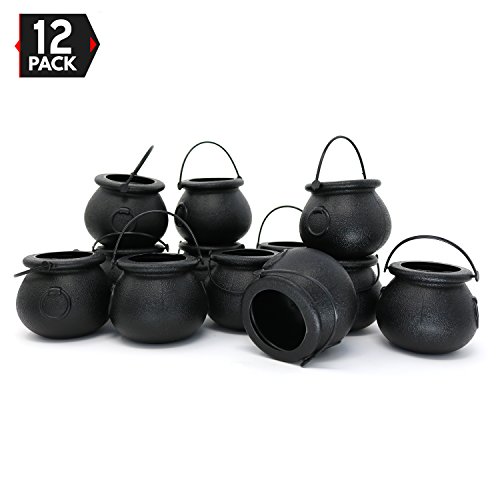 Candy Cauldrons
What better way to collect a haul of trick or treat goodies
Want to shop all our Halloween picks in one place? Check out our dedicated shopping page, full of all our best finds from the interwebs!
Did you enjoy this post? If so, don't forget to share it on Pinterest!
Edit + Nest is a participant in the Amazon Services LLC Associates Program, an affiliate advertising program designed to provide a means for sites to earn advertising fees by advertising and linking to Amazon.com. Click here to view our Privacy Policy.